A great choice of beers from local breweries and brewers from around the globe. You'll always get a warm welcome from friendly and knowledgeable staff. There are always 5 or 6 beers on tap and a great many in cans and bottles in the shop.
Brandon Cook
Perfect place for a relaxing drink with friendly staff, great service and a wide selection of beer
Emma Naylor
Excellent range of beers!
Andrew Foley
We like MK Biergarten. There is consistently a wide selection of options in the coolers and some diversity on tap. Overall it's very comfy with both outdoor and indoor options. The atmosphere is always quite relaxed.
Stan Miller
Best place for craft beers in MK. Big selection. Knowledgeable staff
Gareth M
Superb craft selection, friendly and knowledgeable staff that will happily recommend beers. Great how they have fit so much into a small space. Definitely worth a visit
Ollie Blk
Very chill place with a great atmosphere and selection of beer. Conscientious management and polite custodians. Go and enjoy!
Michael Television
Great little bar with indoor and outdoor seating, good variety of beers on tap and huge selection of bottles and cans. Staff were friendly and helpful and if I am in the area again I will definitely be back!
Kyle Thomas
Nice chilled place to try an almost endless variety of beers, ciders and a few meads. Plus the chocolate coated brownies are not to be missed!
Michael Taylor
The Rub - Wood Smoked BBQ - Friday 1st Dec: 5-9pm
The Rub is a family run business that makes food with passion & uses a wood smoking process to produce unique blends of flavour. Plus a range of homemade hot sauces. Vegan & GF options. Upcoming dates: 1st Dec.
Bucks Brothers Gin

Three brothers from Buckinghamshire, with a true passion for great gin and a good time! Biergarten is proud to work with this new Artisan producer right on our door step. For their Buckinghamshire Dry Gin they infuse together carefully selected botanical ingredients, which make a distinct and delicious flavour.
More info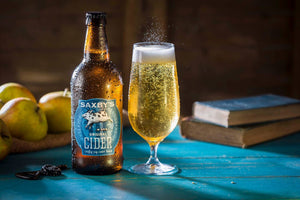 Saxby's Cider
Saxby's Cider based on a family farm in Farndish, a small village on the Northamptonshire /Bedfordshire border. If you're a discerning cider drinker, you've come to the right place. Saxby's grow their own apples in the orchards on the farm. These are carefully selected English cider varieties and dessert fruits which are slowly matured and expertly blended. The award-winning range of ciders are pressed right here on our farm using real real cider and real fruit juices– no flavourings, syrups or nasties.
Monthly Charity Quiz - Wed 20th Dec - 7.30-9.30
We run a charity quiz night every last Wednesday of the month. All you need is a team of four and a pre-booked table as space is limited. Arrive at 7pm as the quiz starts at 7.30. So fun, beer & prizes all rolled into one evening.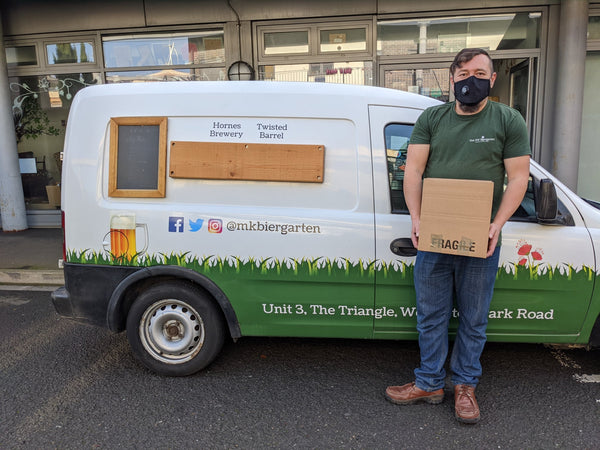 We deliver every Saturday between 12pm and 3pm with to Milton Keynes postcodes MK19, MK13, MK12, MK11, MK8 & MK5.
Minimum order for deliveries is £25 across the whole web shop.
Map
58 Wolverton Park Road,  Woverton
Milton Keynes MK12 5FJ
info@mkbiergarten.co.uk
Mon-Wed: 16:00 to 22:00
Thur: 12:00 to 22:00
Fri-Sat: 12:00 to 23:00
Sun:12:00 to 22:00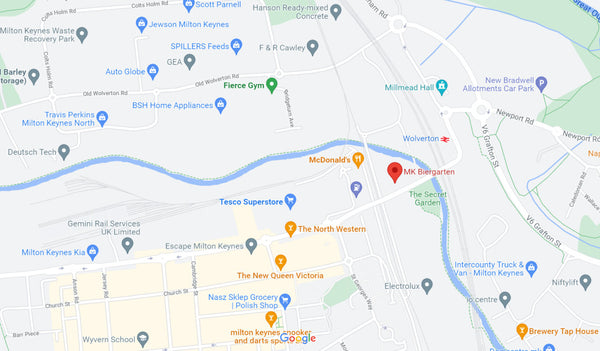 Close (esc)
Sign Up to our mailing list to receive information on new products
Sign up to our mailing list to receive information on new products and special offers.

Age verification
By clicking enter you are verifying that you are over 18 and old enough to consume alcohol.